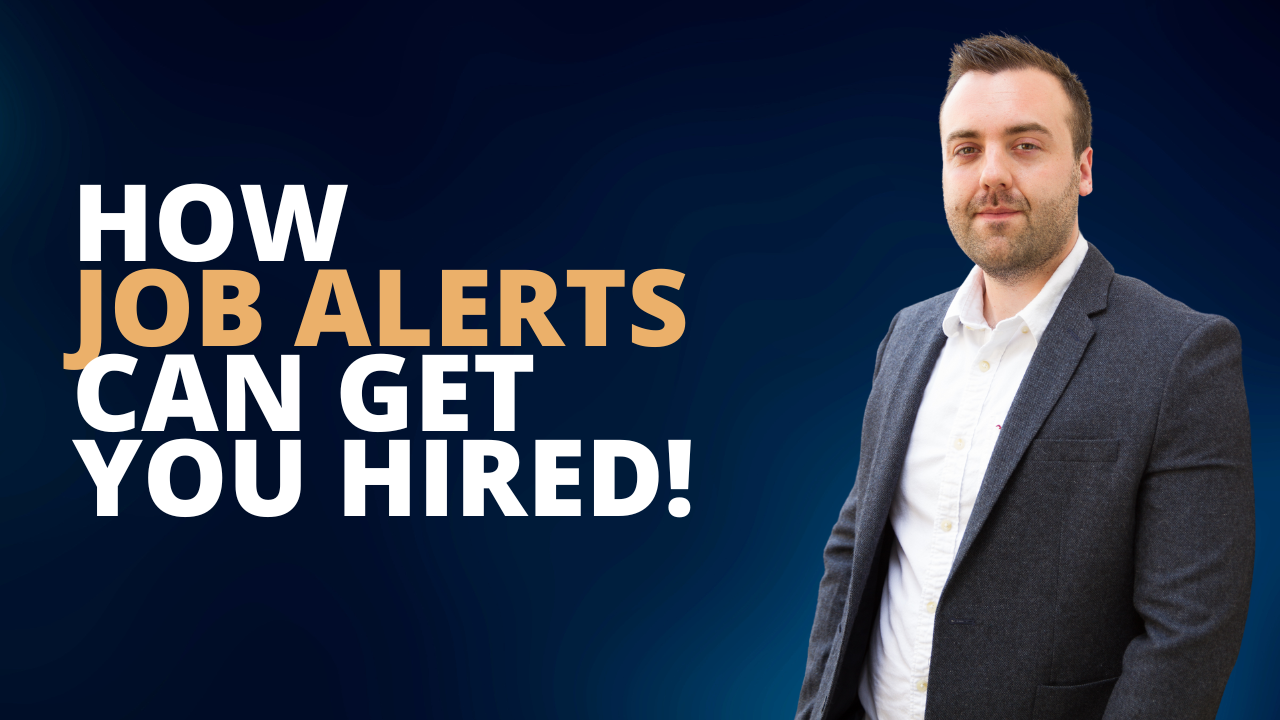 How Job Alerts Can Help You Land Your Dream Job
Aug 27, 2023
In this week's newsletter, I'll discuss how the power of job alerts can increase your chances of getting hired.
If you haven't already, I recommend reading my previous newsletter about targeting 10 key employers for context.
Now, our focus is solely on applying to companies we're genuinely interested in and have extensively researched (our top 10 target companies).
It's this focus that gives us the ability to stand out in a competitive job market.
However, these top 10 companies may not currently have job openings.
The solution?
Save yourself from daily hours of searching by setting up job alerts.
This way, job opportunities come directly to you.
What are job alerts?
A job alert is a notification that comes your way when a job with specific criteria (that you determine) opens up.
In this case, we are searching for jobs at our target 10 companies that match our transferable skills at the salary we desire.
For example, we could be searching for;
"Leadership" - which could be one of our transferable skills
"Microsoft" - which could be one of our target companies
"£60k+" - which could be our target salary
Set the criteria of what you're looking for one time, and then you won't have to scour job boards or company websites ever again.
Let technology do the work for you!
Why should I use them?
As a busy Retail Manager, staying on top of your job search can be challenging.
Job alerts prevent you from missing out, even during busy weeks.
Plus, they offer a first-mover advantage.
Recruiters often review the initial batch of applications closely.
By applying early, you increase your chances of being noticed and selected for interviews.
Don't miss out on this edge – job alerts ensure you're informed promptly!
Here are 3 places you can set up job alerts
LinkedIn
To set up job alerts for a specific company:
1. Search for one of your top transferable skills (e.g leadership)
2. On the Page, tap the Jobs tab.
3. Filter to the companies you're interested in (e.g Google, Deloitte)
4. Tap the "Get job alerts for this search"
5. You can filter to your desired salary but I find LinkedIn doesn't pick this up very accurately so I normally leave this off.
Job Search Websites
1. Head over to your favourite job search website, in this example, I'm using indeed.
2. I want you to type in a transferable skill (e.g Leadership) in the "what".
3. Then I want you to filter your results to your location and your desired salary.
4. It's not as easy to filter down to specific companies on job search websites, but if you type your target company in the "what" section it will often find it in the "company" filter. In the example below we've found 44 jobs in the NHS.
5. Then at the bottom of the page you can setup job alerts by filling in your email address.
Directly on the company's website
I won't provide a walk-through for this as it is specific to every company.
But I'd also suggest setting up alerts directly on your target companies' websites (if they allow you to).
Then you've covered all your bases.
Conclusion
We've explored the three effective methods to create alerts for your target companies.
By implementing these strategies, you can now enjoy the convenience of having relevant updates delivered directly to your inbox, eliminating the need for constant manual searches.
This streamlined approach will save you valuable time, allowing you to focus on preparing and perfecting your job application promptly when opportunities arise.
Stay proactive, stay informed, and be ready to seize the moment when it counts.
Happy job hunting!
------
Whenever you're ready, there are 2 ways I can help you:
1. I'd recommend starting with an affordable course:
Career Idea Generator: Unlock Exciting Career Ideas Outside of Retail
The Proven Framework for Generating 30+ Career Ideas Outside of Retail Without Sacrificing Your Salary (Even if You Have Absolutely No Experience in Other Industries)
The Job Offer Blueprint: How to Secure Interviews for Your Dream Career Outside of Retail.
The Job Offer Blueprint Is a Multi-Step System for Generating a Pipeline of Interviews for Careers in Exciting Industries - Even if You've Only Worked in Retail
2. If you need more hands-on 1:2:1 support.
Join the Retail Escape Academy. The Retail Escape Academy Is a Proven, All-In-One System for Landing a Job You Love Without Connections, Without Traditional "Experience," and Without Using Job Search Websites. Includes both "Career Idea Generator" and "Job Offer Blueprint" courses. In addition: Self-Marketing Mastery, Nailing Your Interviews + Loads of Hands-On Support.
Escape Retail & Secure An Exciting New Career Without Taking a Salary Cut
Join 1k+ subscribers to the Retail Escape Project Newsletter.
We hate SPAM. We will never sell your information, for any reason.