INTRODUCING
The Retail Escape Accelerator
In Just 4 Short Weeks, Learn ABSOLUTELY EVERYTHING You Need To

Get Out Of Retail

And Land A Job That Gives You

Work-Life Balance

and

Job Satisfaction.
And possibility even pays you £10k+ more 
than you currently earn in Retail.
SECURE YOUR PLACE NOW
Are You a Tired and Burnt-Out Retail Manager?
Let's be honest, you've had a successful career in Retail. However, you grow tired of the lack of flexibility your role brings.
Frustrated with the staff cuts, diminishing autonomy, and unrealistic expectations, you're always drained from being "switched on" 24 hours a day, 7 days a week.
Your current Retail company no longer has any positive credit left in your emotional bank. The only thing keeping you in Retail is the fact you know nothing other than a life in Retail.
Yet, you've heard of a person who has been promising a better career and a better life. They've talked about people leaving jobs that feel empty and unappreciated and taking a path towards work that is balanced, meaningful, and fulfilling.
You've seen this person posting about how Retail Managers are putting their skills to better use in companies willing to offer them more balance.
Are you ready to become one of those people?
YES! I AM READY TO TAKE A PATH TOWARDS MORE BALANCE!
Frustrated With Applying for Jobs Online and Never Hearing Back?
You dream of changing careers, but there's a problem. You can't seem to find someone who'll give you a chance. This happens a lot, and it often starts like this...
You have a bad day at work, and you decide you've had enough, so you:
Update your CV [Resume].

Visit your go-to job search website.

Apply for whatever seems interesting.
Then you wait.
You're lucky if you receive the templated "sorry you've been unsuccessful" email.
But most of the time it's silence. 
Here's the thing: the "traditional" method of applying online gives you less than a 1% chance of success. Why? Because you're competing with over 100 candidates for every job opening, all following the same traditional methods.
We're hoping a company takes a chance on us, instead of taking charge and aiming for exciting opportunities at specific companies. Companies offering us what Retail can't: work-life balance, flexibility, and job satisfaction.
If you want to win a fantastic job in today's competitive job market, you have to do things differently.
I'M READY TO DO THINGS DIFFERENTLY!
Introducing...
Tom Harris
(aka the Retail Escape Specialist)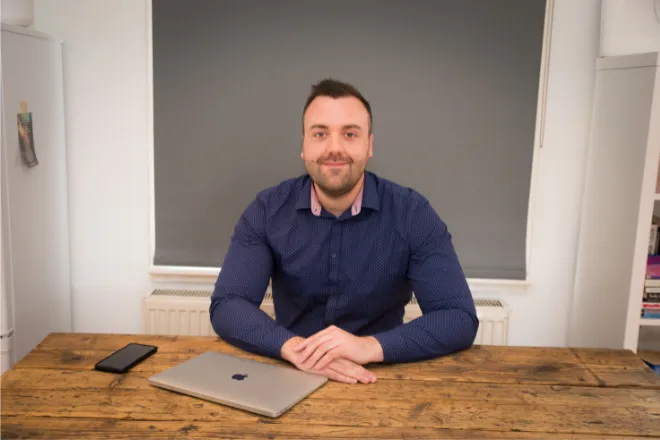 In 2018, after completing a decade in the retail industry, I became exhausted by the lack of work-life balance that it offered. Although it was the only job I had ever held, I knew I had to make a change. I had been contemplating a career change for some time and finally decided to take action.
I applied for 100 jobs, but unfortunately, I was rejected by all of them. It made me believe that my Retail experience didn't count, and I feared I'd need to start from square one or accept a lower salary to change careers. However, that wasn't a feasible option for me, as I had grown accustomed to the lifestyle my career had afforded me.
I was ready to give up, but I decided to approach the problem like a true Retail Manager… Find someone that's having success and learn how they did it! So, I spoke to many people, including career coaches, recruiters, and most importantly, those who had successfully escaped Retail. And what did I discover? I realised I was doing things wrong.
I was following the same job search strategies as everyone else, but these strategies simply don't work if you're looking to change careers. Everything I had been taught about finding a job in the past was incorrect, especially in today's digital age. There's nothing more disheartening than believing you're doing everything right but not seeing any results.

So, instead of following the traditional methods, I used the knowledge I gained to develop a job search strategy that turned my constant rejections into a stream of interview opportunities. My offer rate skyrocketed, and I began receiving higher salary offers. I could now focus on exciting companies I genuinely wanted to work for, and they were willing to match or exceed my Retail salary!
As a result, I secured my dream job in a not-for-profit organisation, which was Mon-Fri, 9-5 and I didn't take a pay cut either!
I WANT A STEAM OF INTERVIEW OPPORTUNITIES! SIGN ME UP!
Transforming Retail Managers Into Standout Stars in the Job Market
Introducing...
The Retail Escape Accelerator
This is my proven group & 1:2:1 job search program. This system is built on going above beyond in creative and innovative ways in order to showcase your transferable Retail value, while standing out amongst other candidates. It's a personalised 4-week boot camp designed to teach you my entire job search system in a way that's completely tailored to you and in the quickest possible time. 
Here's how it works:
Step #1: Defining Your Goal
We'll get super clear on where you want to go and what companies align with your values and priorities. If that's a FTSE 100 company like Google, great! If that's a small, early stage startup, also great! Career happiness isn't always about working for a big name, it's about finding a company that aligns with your values.
Step #2: Building Out Your Materials
Once we have our list of target companies, we'll help you transform your CV [Resume] and LinkedIn profile into job interview generating machines. They'll be fully tailored to your target roles and companies to maximise outcomes.
Step #3: Identifying Contacts and Building Relationships
Next, we'll help you identify contacts who can influence your ability to get hired. We'll work with you to create unique outreach and relationship building plans for each contact. You'll know exactly how to start the conversation and build the relationship from stranger to referral.
Step #4: Transferable Retail Value So Clear, They Can't Ignore It
As you're building relationships, we'll work with you to find creative was to illustrate your value. You'll be able to focus on your message and share it in your own words, on your own terms. Companies and contacts are going to understand exactly what you bring to the table -- even if you don't have any traditional experience in the industry yet!
Step #5: Acing The Interview
As you begin to land interviews, we'll dive deep into our proprietary interview preparation system. We'll help you build out your story, align your value, and leverage research-backed psychology principles to build instant rapport with your interviewer so you begin converting more interviews into job offers.
What Results Can I Expect?
I've supported hundreds of Retail Managers in landing jobs at amazing companies without needing industry experience, without applying online, or accepting lower pay.
Here are a few examples:
But this program isn't about getting you a job at some big, brand name company. It's about getting you out of the job search and into a job offer that pays you what you are worth and offers you work life balance. 
No Loss of Earnings, With an Average Increase of £10k
Retail Managers never need to accept a salary reduction to achieve their desired career changes. In fact, on average, our clients experience a £10k increase as a direct outcome of working with us.
Secure a Job Offer in 90 Days
On average, a Retail Manager takes 13 months to plan and execute a successful career change when doing it alone. We assist our clients in securing job offers approximately 4x faster.
My Commitment to You
If you don't start receiving interviews after 6 weeks, I'll keep working closely with you through our direct-access WhatsApp group at no extra cost until you do.
Give Me x4 Tuesdays, And I'll Give You Your Career Change. 
I get it, you're busy, but invest just 1.5 hours every Tuesday for 4 weeks, and I'll reveal everything you need to stand out in the job market as a Retail Manager. Afterwards, all it requires is a few hours per week to start securing 2-3 interviews weekly with your dream companies
Here Is What People Are Saying...
What's Included In The Retail Escape Accelerator?
A 1:2:1 45 Minute Career Clarity or Job Search Strategy Call - worth £197
4 x Weeks of Live Training Sessions - worth £997
- Week 1: Career Discovery
- Week 2: Self-Marketing Mastery
- Week 3: Job Search Strategy
- Week 4: Interview Preparation
4 x Weeks of Live Q&A Coaching Calls - worth £399
60-Minute Resume & LinkedIn Review Session
- Including Personalised & Optimised CV [Resume] - worth £397
Lifetime Access to Tom's Flagship Retail Escape Academy - worth £620
Lifetime Access to Our Entire Library of Digital Courses (And Future Ones Too!) - worth £997
A New Exciting Career With Better Work-Life Balance (Without Taking A Pay Cut) - priceless
But Wait... 
You are getting £3.6k+ worth of value today by joining the accelerator.
But don't worry you're not going to have to re-mortgage your house.
I've got good news.
You won't pay £3.6k+… you won't even pay half... 
You Need to Act Fast
...Only
20 Spaces Available
...And
doors close on Sunday 1st of October
To ensure every cohort receives the essential 1:2:1 tailored support needed for their Retail escape, I limit enrolment to just 20 spaces at any given time.
Our structured 4-week boot camp begins on Tuesday, October 3rd. Hurry, as the doors to this accelerator program will close on Sunday, October 1st, marking the last chance to join this transformative retail escape journey.
Worried About the Investment? 
If you're concerned that the £997 investment may seem substantial at first glance, think about it this way:
As a Retail Manager, we are used to putting other first. Isn't it time you finally did something for you?
Not to mention that if you deploy the strategies I teach you in this programme you are likely to earn more than what you are on now. There's a good chance you'll earn x10 your current investment in the first year alone. 
Better career and return in investment. 
The question you should be asking is… can you afford to wait any longer?
OKAY, LET'S WRAP THIS THING UP.
HERE'S A RECAP OF EVERYTHING YOU GET …
✅ Get my "golden ticket" job search strategy that will help separate you from 99% of other job seekers out there.
✅ Learn this entire job search strategy in just 1.5 hours every Tuesday for 4 weeks. It then takes just 30 minutes a day to implement.
✅ Let me ensure you have a job winning strategy by working closely with you for 4 weeks via live Q&As. If you don't start receiving interviews after 6 weeks, I'll continue working with you until you do. 
✅ I'll build your CV [Resume] from scratch tailored and fully optimised to help you land interviews for your desired job goal. 
✅ Get lifetime access to every single career change course (& future courses) you see on my website (total current value £620). 
✅ Secure interviews in careers that offer you more balance and job satisfaction, with companies willing to match or exceed your Retail salary.
✅ Stuck for career ideas? Discover my simple strategies that will help you generate 30+ realistic career ideas matched to your transferable Retail skills. 
Here Is What People Are Saying...
This Isn't For You If You Are...
Not prepared to put the work in. If changing careers was easy everyone could do it. You need to work at it.
Looking for a quick fix. 
A
IM NOT ONE OF THOSE PEOPLE. I'M IN.
What Will You Do?
Now, the way I see it, you have three options…
1 - Spend Another Year Working in Retail
Keep wondering if there is something better out there…
Missing those important times in your life because you're always working.
Never getting to switch off because your career demands 24/7 commitment…
And maybe living a life of regret because you leave it too late to make a change…
You can keep trying to figure everything out on your own, never really doing anything about it… only ever thinking about what life would be like with more work-life balance and job satisfaction but never doing anything about it.
2 - Try and Do It on Your Own
You can walk this journey alone, it is undoubtedly doable especially if you follow my advice in my posts and content.
But it is also the option that leads to people settling for less… less salary… less satisfaction.
Why? Because I know it's a hard journey (I've been on it myself) and there are many pitfalls. It's the reason why I do what I do.
Learn from someone that has learnt the hard way so you don't have to.
And without taking a cut in expectations or salary just to get out of retail.
Bringing me onto option 3.
3 - Sign Up to Join The Retail Escape Accelerator
You'll be handed all the tools and insight needed to make a successful career change.
No more failure, no need to lower your standards or salary expectations.
Have someone that is going to challenge you and make you stick to it.
You're going to be on the first step towards finally doing something about it.
And more importantly, towards that career with more work-life balance and job satisfaction.
Click the button below to get started.
When does the programme start?
Do you offer a guarantee?
You're from the UK, does what you teach only apply there?
How will I find time to implement what you teach?
What if retail is all I have ever done?
I do not have the experience or qualifications listed on the jobs I'm applying for so how can I change careers?
I don't think right now is the best time; I've got a lot going on at the moment.
I am on a good salary; do people really secure careers with similar salaries?
How is the course delivered?
How can I prevent my employer finding out I'm trying to escape retail?