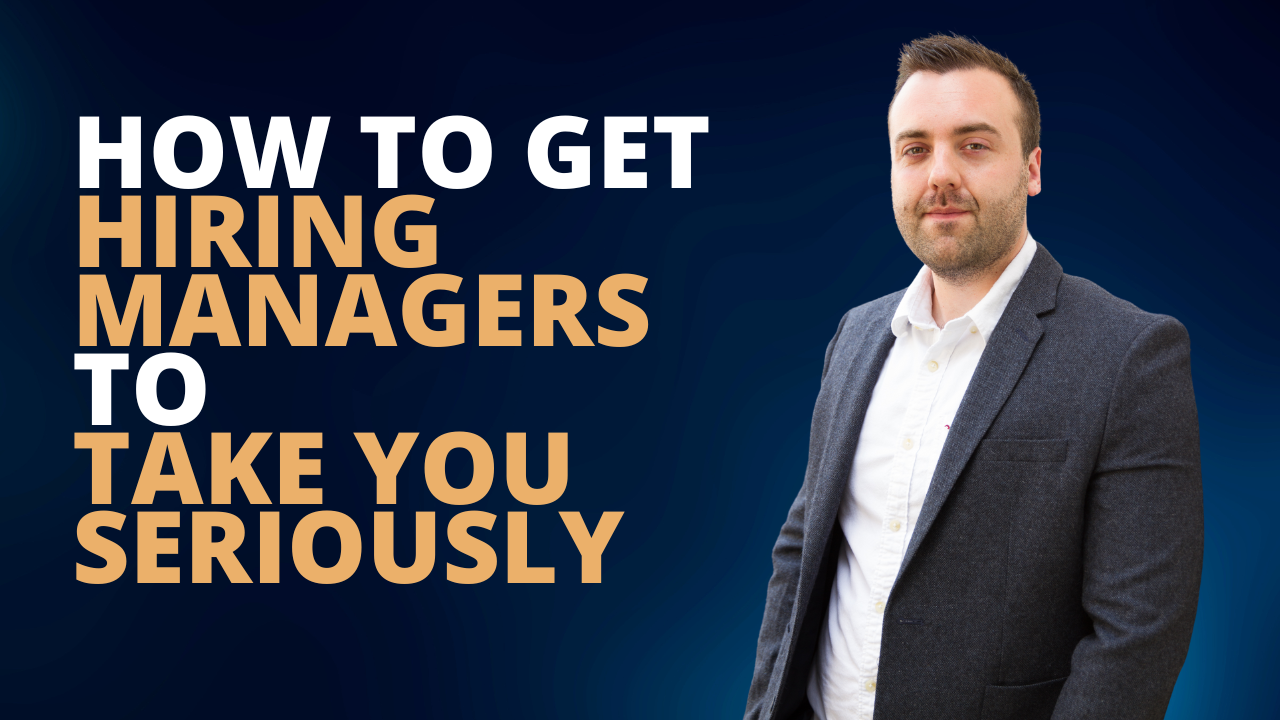 6 Ways to Get Hiring Managers to Take Your Retail Experience Seriously
Aug 13, 2023
In today's newsletter, I'm going to show you how you can elevate your retail experience to a level that opens doors in other industries.
One common error I often observe is the assumption that a hiring manager from a different industry will fully "get" your current role in retail.
But we all know you only "get" retail if you've worked in it, and it's likely your hiring manager hasn't.
We shouldn't expect hiring managers to grasp the value we have to offer their industry.
It's our responsibility to articulate it clearly!
When crafting our CV/Resume, we need to write with the assumption that the reader has limited knowledge of Retail.
Terms like "shrink," "items per minute," or "mystery shopper" may leave them puzzled.
To them, a Retail operation is just a few colleagues working on a shop floor.
Unaware that you might oversee a team of over 200 individuals in that store.
While they spend £100 on their weekly groceries, they may not realise that the store generates over £32m annually.
We might perceive our accomplishments as insignificant within the realm of retail, but outside of it, they carry substantial weight.
Even a mere 1% increase in sales equates to over £300k, a value that many companies would want a piece of!
The great news is that highlighting these achievements and elevating your experience is relatively straightforward.
Here are six key areas where you can achieve this:


Company Size
When we mention the retail company where you work, it's likely that everyone knows about it, given that they have probably shopped there before.
But do they know just how big it really is?
Here's a cool trick: Would you rather be a manager in a company that makes £1 million a year or one that makes a whopping £1 billion a year?
Of course, the big organisation stands out!
But many folks have no idea just how huge the company is.
Instead of saying you work for Sainsbury's, try this:
"One of the UK's largest chains of supermarkets with 116,000 colleagues and 29 billion in annual revenue. It is split into three divisions: Sainsbury's Supermarkets Ltd, Sainsbury's Bank and Sainsbury's Argos."
Now, that's impressive!
And speaking of big things...


Turnover
I'll admit, I didn't really get how massive the operation was until I left Retail.
When I became an Area Manager for a not-for-profit organization, I was responsible for an £8 million annual contract.
But guess what?
That's only a small part of what I managed back in my retail days. In my last retail job, I was in charge of a whopping £32 million in yearly sales.
Because big retail businesses make so much money, chances are any job you apply for in other fields will deal with way less money.
You can use this to your advantage!
Instead of saying, "I was in charge of the fresh food departments in 18 stores," you can say something like, "Ied the fresh food departments across 18 Sainsbury's Supermarkets, handling their operation and a massive £32 million in annual sales."
See how it stands out?
But it's not just turnover we're accountable for, we're also accountable for...


Budgets
You probably have a labour budget, a shrink budget, a waste budget, and more.
These routines for managing budgets are incredibly valuable skills.
However, individuals often omit the amount they were responsible for.
Instead of saying you were in charge of efficient staff scheduling.
You could highlight your responsibility for a labour budget of £1.2 million per year.
"Effectively managed a substantial £1.2 million annual labour budget, optimizing resource allocation and staffing strategies to ensure operational excellence and cost efficiency."
How much more impactful does that sound?
Then there is...


Store Size
This one mainly hinges on whether you are or were a store manager in Retail.
However, we often overlook the sheer scale of the operation we managed in terms of physical space.
While many other businesses run from compact offices, perhaps even remotely.
You could have been in charge of a store spanning 20,000 to 60,000 square feet.
That's a substantial responsibility, especially when you were solely responsible for overseeing facility management, health and safety, local regulations, food safety, and various aspects of the actual building itself!
Instead of saying you were in charge of a supermarket, you could say;
"Managed the comprehensive site operations of a 60,000 sq ft supermarket, overseeing a wide range of responsibilities including facilities management, health and safety protocols, food safety compliance, security measures, and local governance."


Team Size
We often underestimate the scale of the team we're accountable for.
While customers may only see a few staff on the shop floor, we're well aware that many more individuals contribute to the success of our operation.
Just 1% of all employers out there have a workforce of 100 or more, yet most supermarket site operations involve over 100 colleagues.
It's crucial to make this count and ensure that the hiring manager fully comprehends your scope of responsibility.
Instead of simply stating you led and managed a team, consider phrasing it like this:
"Provided highly effective line management to a team of 7 department managers, while providing indirect leadership to a team of 200 colleagues"
Powerful, right?


Job Functions
And lastly, it's important to recognize that Retail Managers wear many hats!
However, other industries might not fully grasp the diverse functions that a Retail Manager oversees within a retail store.
From marketing and cash office routines to HR, payroll, and sales, your role encompasses a wide range of responsibilities.
In various industries, distinct managers are often designated to oversee each of these aspects across the entire organisation.
Yet, within the confines of your store, you're effectively handling them all, and you're the one ultimately held accountable!
Here are a few CV bullet examples that highlight these versatile responsibilities:
Led the successful implementation of marketing strategies within the store, notably during a beer and wine promotion where we effectively generated an extra £400k in income by boosting visibility and engagement.
Meticulously oversaw cash office routines, guaranteeing precise financial transactions; notably, in 2022, achieved the area's best cash loss result with a mere £2k loss.
If you can back these up with results you've delivered wearing one of these hats (such as generating £400k income through a marketing campaign or achieving a cash loss of only £2k), you'll create a significant impact.


Conclusion
In closing, remember not to assume that managers in other fields know about retail as you do.
They often don't. You need to explain it clearly.
But the good news is, when you do, your retail experience can become even more impressive.
Sometimes we forget that we're in charge of big things; we take it for granted.
But many retail operations are bigger than entire other companies.
Hiring managers will start taking our Retail experience seriously when we start getting better at explaining what we actually do!
And this alone will massively increase your chances of securing jobs in other industries.
Happy job hunting!
------
Whenever you're ready, there are 2 ways I can help you:
1. I'd recommend starting with an affordable course:
Career Idea Generator: Unlock Exciting Career Ideas Outside of Retail
The Proven Framework for Generating 30+ Career Ideas Outside of Retail Without Sacrificing Your Salary (Even if You Have Absolutely No Experience in Other Industries)
The Job Offer Blueprint: How to Secure Interviews for Your Dream Career Outside of Retail.
The Job Offer Blueprint Is a Multi-Step System for Generating a Pipeline of Interviews for Careers in Exciting Industries - Even if You've Only Worked in Retail
2. If you need more hands-on 1:2:1 support.
Join the Retail Escape Academy. The Retail Escape Academy Is a Proven, All-In-One System for Landing a Job You Love Without Connections, Without Traditional "Experience," and Without Using Job Search Websites. Includes both "Career Idea Generator" and "Job Offer Blueprint" courses. In addition: Self-Marketing Mastery, Nailing Your Interviews + Loads of Hands-On Support.
Escape Retail & Secure An Exciting New Career Without Taking a Salary Cut
Join 1k+ subscribers to the Retail Escape Project Newsletter.
We hate SPAM. We will never sell your information, for any reason.